Okay, that's a weird place to start, but hang in there, I'm going to try to convince you anyway.
I cannot get enough peter pan collars. *sigh*
One of my favorite details of the housecoat I
made, bluebird buttons.
When I think of housecoats, I do have to be honest and say that I do mostly think of my grandmothers and the old show Mama's Family(?). However, I think they deserve a second look and can be very practical.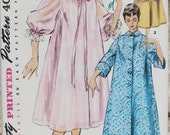 I used this pattern for my housecoat
and you can get your own copy here.
First, a housecoat is NOT a robe. There is a difference between a robe and a housecoat. One being that a robe wraps and ties in the front and a housecoat usually buttons, zips, or snaps up the front and may or may not have a tie at the waist. Vintage housecoats also are usually about knee length and a vintage robe is floor length. Oh, and pockets! A housecoat often has really roomy pockets!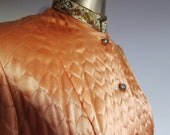 Make sure you check out this 1950s
housecoat with princess seams and quilting.
Not all housecoats are so voluminous.
I have one housecoat that I made from a vintage 1950s pattern, and I wear it more than I've ever worn a robe. The one major plus is that it buttons up the front and so stays shut way better than any robe I've ever had. I wear it while ironing the day's outfit, while cooking breakfast, when I have to hurry from the shower because the two year old woke up before I could get dressed and is wondering through the house, and just to keep from walking around in skimpy pajamas. I also wore it while in the hospital after the birth of my two sons (I wish I'd had it after the birth of my daughter), and felt covered and much more ready to receive any visitors while still being able to nurse easily.
You can still buy housecoats like my grandmothers wore in the 1980s, but the older ones I think are way better and look much less like a grandma. I wish I still had some of the vintage ones my grandmothers had, unfortunately many family members see old clothes as trash and the really old ones were all given away. (Noooo!)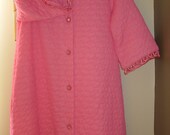 My paternal grandmother had a
similar housecoat except it was
satin and had embroidered moons
and stars on it. So chic! This new
old-stock one is available here.
Older vintage housecoats are often more form fitting and not the kind of thing you'd be embarrassed to wear to answer the door. And the details on vintage housecoats are simply beautiful. You can still find a few vintage ones out there even from the 1930s, but if you're willing to sew or have one sewn for you, the possibilities are endless.
And if you do decide to sew, don't be afraid to use the pattern for more than a housecoat. I made two of my favorite wrap dresses from a 1948 housecoat or brunchcoat pattern. (Note to self: take pictures of said dresses and post here on blog, eventually.) They really can make cute dresses if you pick a more form-fitting style.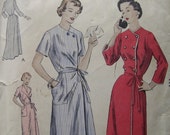 This vintage housecoat pattern
looks better than most of our
everyday clothes.
So, have I convinced that this garment is way more practical than it seems at first glance? C'mon give a housecoat a chance. I think you'll be glad you did.