I have literally collected vintage stuff for years. Even as a child I would ask for old things my parents or grandparents were going to discard. Which is why I have an old wooden shoe stretcher from my maternal grandpa and lucite animal figurines from my mom's childhood that now reside in my daughter's room.
I don't collect any one specific thing/things, but rather buy whatever I like. I enjoy walking through a thrift store or antique mall and just waiting until something grabs my attention, and generally only buy it if I am so smitten that I cannot leave without it. If I don't have extra money to spend, I just don't go to those stores.
So, what's the newest thing(s) I don't want to live without? Vintage plastic/lucite brooches or pins. Especially the ones that are brightly colored and fairly cartoonish. I know weirdly specific, but I just keep seeing so many cute and kitchsy ones on ebay and etsy that I wish I were a millionaire just so I could buy one of each.
I did recently buy a couple on etsy. So far only one has arrived, but I suspect that's because the other had to travel from the UK.
The first one is an early plastic cowboy on a horse in bright primary colors. I know, right?!?
I have always liked cowboys. I live in the southern part of the U.S., so not a lot of "real" cowboys here, but growing up my dad wore boots and a stetson and was a professional musician (plays guitar, bass, mandolin, banjo, and sings and writes songs).
My dad is the one with the banjo on the far right. This was one of his early professional gigs,
and he's probably about fifteen here in the late sixties.
If I ever lived anywhere else, I would like to live in Wyoming. (Love that state!)
My own first musical love, apart from Daddy, was an LP of Bob Wills and his Texas Playboys. I was the only kid in kindergarten to enter the talent show singing "Take Me Back to Tulsa" with my older brother accompanying on guitar (we won, too!).
I still love Roy Rogers movies, and so do my kids. (Nuff said.)
Roy Rogers, King of the Cowboys, and Trigger
I also have some cotton material with a similar print on it (hope to show you one day soon what becomes of it).
So you see, I needed this pin, and it wasn't very expensive.
The other one I'm waiting for is three little, cartoon-like, yellow, chicks. My favorite color is yellow, I love birds, I want to have my own chickens one day, and I have my own three "chicks", so a no brainer here, too.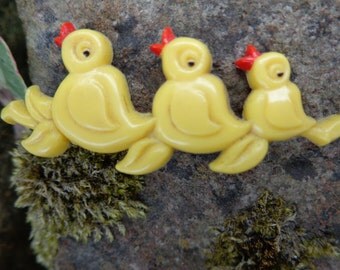 I figure that if I'm sewing my own clothes from material already in my stash, I can spend a little on accessories along the way. And thusly, make each outfit a little more special.
What vintage items are you currently obsessing over?
And if you're curious here's Bob Wills and his Texas Playboys playing "Take Me Back To Tulsa". Enjoy!