Do you wear vintage/repro/or vintage style clothes everyday? If so, I've got some questions for you!
I know that look. She's swept the same floor five times today.
I do have some actual vintage pieces that I wear, and I have some modern pieces that are vintage style, and I have clothes that I've made from vintage patterns. I love wearing all of these, but I'm finding some limitations that I'm hoping someone can help me with.
1. Laundry
Ugh! I hate the very word. Maybe it's because I'm a mom to three kids (5, 2, and 1), or maybe it's because we use cloth diapers (Now that's vintage!), so my laundry levels are constantly high. The problem is that some vintage items need more time and care than I care to give them. This has greatly limited my vintage wardrobe one way or another. I either don't wear actual vintage items very often or won't even buy them if I know they'll require special laundering and/or ironing. I forgot to mention I HATE ironing, that is I don't like to iron around small kids. Just seems like an accident waiting to happen. So, ironing happens when one or more kids is asleep. If you have small children, you will understand that means either late at night, early in the morning, or when somehow "nap time" works like it's supposed to work (and no, it doesn't always work, and even more rarely for all or even two at the same time).
If only I looked this good while ironing. *Sigh*
So, my question is: How do you get everything cleaned and ironed to wear vintage everyday?
2. Practicality
I guess this goes with laundry, but sometimes, well, I get messy just doing my job, and I don't wear or purchase certain things to keep from messing them up. I truly wish I could wear more vintage on a daily basis, but the mom in sweatpants look is too easy to fall into. And part of the reason I want to wear more vintage is because of how it makes me feel.
I did can some salsa a couple weeks ago!
So, how do you wear vintage while cleaning your house, cooking, or feeding babies and changing diapers without the fear of forever blueberry stains or rips and tears?
3. Cost
Seriously. Maybe I'm looking in all the wrong places or am just so cheap and not used to spending much on clothing, but a lot of vintage is, in my opinion, WAY overpriced.
I am a stay at home mom and we homeschool, so our budget is adequate (big blessing), but usually tight. I have also been pregnant 5 times in the last five years (we lost two babies), so my size has *ahem* varied a bit, so I didn't want to invest a lot of money only to be unable to wear something again. I realize that we could make different choices and have more money to spend on more frivolous things, but these are the choices we've made and I really wouldn't want to change any of it.
And repro seems really expensive to me, too. I do love to sew, and most of my "vintage" wardrobe is from what I've sewn, but time for sewing is hard to find for me right now.
So, how can vintage be more affordable?
4. Availability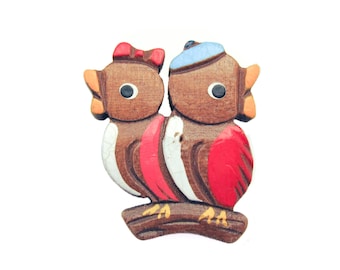 Yes, I do "need" this brooch!
source
I thank God for the internet! There is no way I would be able to find half the vintage clothes/accessories or sewing patterns I have found if not for access made possible by the internet. I live in rural east Tennessee in the United States, and let's just say the value of vintage clothing isn't always appreciated. I do occasionally as a result find really awesome things really cheap, but I also fear much vintage is simply thrown away. My own uncle "got rid" of all of my grandmother's clothing without asking anyone first, grrr.
The problem with relying so heavily on the internet is that you can't try things on first, can't really examine or feel them, and sometimes can't even return them. I have already found out the hard way that measurements for some people does not include using a standard inch or centimeter or any standardized measuring.
So, where have you found great vintage, and what dealers/shops/vendors are reliable?
I really do love vintage and wish I could be dolled up every day. My husband knows that he might come home to me wearing just about anything and tries not to laugh when my hair experiment doesn't work as planned. I have always worn some vintage, but in recent years I've decided to sew more of my own clothes and to wear what I like more often regardless of what everyone else is wearing. It's not easy to be the only eccentric (in a good way) in a small town.
I hope the comments section to this post will be filled with good advice and tips for me and anyone else who shares my questions. You don't have to give away your awesome and secret fishing holes, but any help would be appreciated.
So, how do you wear vintage everyday?